Kempinski Nile Hotel Garden City - Cairo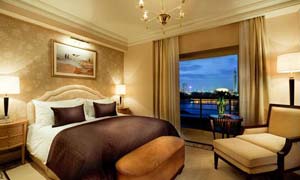 The ultimate attention to details, a charming greeting and a row of familiar smiles will welcome you into the 5 star boutique hotel in Cairo. Enjoy the contemporary European Flair when it meets Egyptian Charm to evoke an ambiance that stirs you from within. Here is where "Simple Things Done Beautifully" gives you lasting impressions of the ultimate personalized luxury.
Endowed with a rich tradition of genuine hotel services, we'll cater to your each and every need. 24 hours a day. 365 days a year. Kempinski Nile Hotel is simply a different kind of sophisticated luxurious hospitality.
Live the comfort of relaxed European elegance. Enjoy a welcoming room in calming neutral colours, or a balcony to sit in the cool and admire the legendary Nile passing by.
Rooms:
Choose a room with views over the historical quarter of Garden City, or the legendary Nile. Delight in the charm of our fleet of butlers, ready to fulfill your every wish and whim, with plenty of smiles.
Suites:
Simplified sophistication. Prepare yourself for the relaxed luxury of all 54 suites.
Imperial Suite:
Uncomplicated yet indulgent elegance. Your private Butler will ensure your every wish and whim is fulfilled: a stay laden with signature moments that will be cherished for a long time after departure. It is life lived in style.
Dining and Entertainment
Osmanly Restaurant
Get your own journey to the past Ottoman Empire. Choose from an excellent menu an old ottoman dish. The waiters will make you feel like a Sultan and will make sure that you will leave with an unforgettable experience.




The Blue Restaurant
If you are a fan of the Mediterranean Kitchen and enjoy a good meal in a nice and luxurious atmosphere it is time for you to visit our Blue Restaurant. Be inspired by the atmosphere and enjoy excellent service. The Blue offers everything for a perfect meal.


Chocolate Lounge
A delightful European Lounge with a flair that offers a signature experience boosting an exclusive chocolate menu, afternoon tea from around the world, a chocolate and pastry boutique, barista and tea ceremony.


Jazz Bar
Set to be the city's most exclusive hotspot, this chic venue features the hotel's Jazz Bar and a Terrace with a breathtaking Nile view, projecting an aura of sophisticated simplicity, fancy cocktails daily entertainment.


Cigar Lounge
It's your escape.. Smoke your cigar in style and select between Cohiba, Partagas & more while watching The Nile flow.


Floor 10
Floor 10 is a lifetime experience to let your world spin around in harmony like never before. We invite you to sip the best Champagne in the world while inspiring your soul by the charm of the splendid Nile view.
Features and Activities
Swimming Pool
Fitness Center
The Spa
Swimming Pool

Swimming Pool


Fitness Center

The Spa

Onsite Services
Concierge Service
Private Butler Service
Safe deposit boxes
High Speed Internet Access